[So, I meant to post this a week ago and never got around to it. Sorry!]
Guysssss!!
We got chickies and a bunny!!
THEY'RE SO CUTE AND FLUFFY
Add that to the collection of hens, goats, cats, and a dog, and we've got the makings of a decent-sized petting zoo!
Unfortunately, I didn't save a picture of the bunny, so you will have to use your imagination to see what he looks like. Ready? Get that brain ready.
He's white.
Did you get all that?
Yeah, there's not much to describe. His name is Jasper and he is a Rex rabbit. He's white, and he's pretty good with people. He is also THE SOFTEST THING I HAVE EVER FELT HELP I LOVE BUNNIES SO MUCH EEP
Right now, he's trying to get some rest in his cage. (Good luck sleeping in this house, Jasper.) And Dad's outside setting up the BRAND NEW HUTCH he bought!!
Okay, and now the chicks.
They are also fluffy.
Right now, they're yellow, but when they get older, they will be white with black markings. They're called light Brahmas and they will have feathers around their feet.
Like this: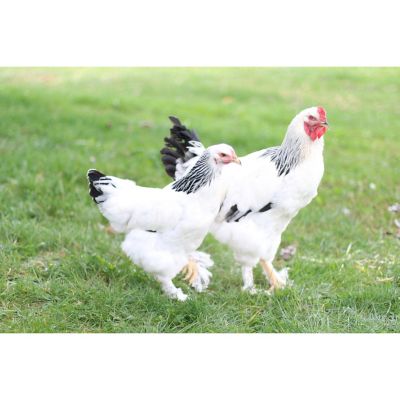 Aren't they cute?? They were already pretty big when we got them, so they've started growing their big-chicken feathers already. I love chickies. Chickens used to be my favorite animal before I became shockingly indecisive when it comes to choosing favorite things. They're still at the top of my list though.
Wow, okay, that got rambly. Just thought I'd let y'all know about the new additions to our household.
Thanks for reading!
(P.S. I shall be posting a new part to my AU soon! Sorry for the long wait!)